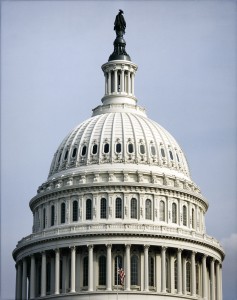 WAYS AND MEANS COMMITTEE PRESS RELEASE:  House Ways and Means Committee Chairman Dave Camp (R-MI) today announced that the Committee on Ways and Means will hold a hearing on the status of President Barack Obama's trade policy agenda.  The hearing will take place on Wednesday, February 9, 2011, in 1100 Longworth House Office Building, beginning at 10:00 A.M.  In view of the limited time available to hear the witness, oral testimony at this hearing will be from the invited witness only.  The sole witness will be United States Trade Representative Ron Kirk.  However, any individual or organization not scheduled for an oral appearance may submit a written statement for consideration by the Committee and for inclusion in the printed record of the hearing.
BACKGROUND:
International trade has been vital to U.S. growth and prosperity in the post WWII era. The United States is the world's largest economy, manufacturer, and trader.  The future success of American workers and business, and the growth of America's economy, require continuing America's strong commitment to finding new markets and expanding existing ones for U.S. goods and services.
The United States signed trade agreements with three close allies in 2007 – Colombia, Panama, and South Korea – and all three are still awaiting Congressional consideration.  The independent U.S. International Trade Commission (ITC) has estimated that the combined effect of the three pending trade agreements would increase U.S. exports by at least $13 billion.  President Obama has repeatedly stated that increasing U.S. exports by 1% could create 250,000 jobs.  The ITC has also estimated that implementing the three pending agreements would increase U.S. exports by at least 1%. The hearing will provide an opportunity to address the resolution of the outstanding auto issues in the U.S.-South Korea trade agreement and to discuss plans and timetable for consideration of all three of the agreements.  The hearing will also provide an opportunity for the Administration to explain its response to China's trade restrictive practices and non-tariff barriers that prevent U.S. companies from competing on a level playing field.  The hearing further provides an opportunity to monitor progress in areas such as the National Export Initiative, the Trans-Pacific Partnership negotiations, the Doha Round of World Trade Organization negotiations and WTO accessions, as well as other efforts to open new markets to U.S. agriculture, goods, and services and address bilateral and multilateral trade disputes and concerns.
In announcing this hearing, Chairman Camp said, "In these challenging economic times for Americans, opening new markets to U.S. exports provides a proven way to fuel economic growth, create well-paying jobs here at home, enhance consumer choice, and raise our standard of living.  An important first step is to consider all three pending trade agreements in the next six months.  In this increasingly globalized economy, we must work together to maximize American competitiveness and prevent us from falling behind.  I look forward to hearing Ambassador Kirk in his first appearance before the Committee as he lays out the President's trade priorities."
FOCUS OF THE HEARING:
The hearing will focus on current trade issues such as:  (1) the pending trade agreements with Colombia, Panama, and South Korea; (2) addressing the full range of issues impeding American companies from selling U.S. goods and services in China and distorting trade flows through unfair trade practices; (3) the ongoing Trans-Pacific Partnership negotiations; (4) the prospect for trade expansion in agriculture, industrial goods, and services through the Doha Round negotiations at the WTO and the issues surrounding Russia's efforts to accede to the WTO; and (5) management of trade disputes and concerns and other trade issues.
DETAILS FOR SUBMISSION OF WRITTEN COMMENTS:
Please Note: Any person(s) and/or organization(s) wishing to submit for the hearing record must follow the appropriate link on the hearing page of the Committee website and complete the informational forms. From the Committee homepage, http://waysandmeans.house.gov, select "Hearings."  Select the hearing for which you would like to submit, and click on the link entitled, "Click here to provide a submission for the record."  Once you have followed the online instructions, submit all requested information. ATTACH your submission as a Word document, in compliance with the formatting requirements listed below, by the close of business on Wednesday, February 23, 2011.  Finally, please note that due to the change in House mail policy, the U.S. Capitol Police will refuse sealed-package deliveries to all House Office Buildings. For questions, or if you encounter technical problems, please call (202) 225-1721 or (202) 225-3625.
FORMATTING REQUIREMENTS:
The Committee relies on electronic submissions for printing the official hearing record.  As always, submissions will be included in the record according to the discretion of the Committee.  The Committee will not alter the content of your submission, but we reserve the right to format it according to our guidelines.  Any submission provided to the Committee by a witness, any supplementary materials submitted for the printed record, and any written comments in response to a request for written comments must conform to the guidelines listed below.  Any submission or supplementary item not in compliance with these guidelines will not be printed, but will be maintained in the Committee files for review and use by the Committee.
1. All submissions and supplementary materials must be provided in Word format and MUST NOT exceed a total of 10 pages, including attachments. Witnesses and submitters are advised that the Committee relies on electronic submissions for printing the official hearing record.
2. Copies of whole documents submitted as exhibit material will not be accepted for printing. Instead, exhibit material should be referenced and quoted or paraphrased.  All exhibit material not meeting these specifications will be maintained in the Committee files for review and use by the Committee.
3. All submissions must include a list of all clients, persons and/or organizations on whose behalf the witness appears.  A supplemental sheet must accompany each submission listing the name, company, address, telephone, and fax numbers of each witness.
The Committee seeks to make its facilities accessible to persons with disabilities.  If you are in need of special accommodations, please call 202-225-1721 or 202-226-3411 TTD/TTY in advance of the event (four business days notice is requested).  Questions with regard to special accommodation needs in general (including availability of Committee materials in alternative formats) may be directed to the Committee as noted above.
Note: All Committee advisories and news releases are available on the World Wide Web at http://www.waysandmeans.house.gov/.
URL:  http://republicans.waysandmeans.house.gov/News/DocumentSingle.aspx?DocumentID=223450