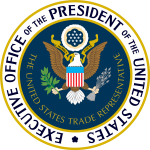 UPDATE:  On Monday, Oct 8, Mexico announced that it had formally joined the TPP negotiatios, and that it will host an intersessional meeting in November.  [Press Release]
Today Barbara Weisel, head of the Trans Pacific Partnership negotiations for USTR, held a civil society briefing on the state of the negotiations.
She announced that Canada and Mexico will officially join the TPP negotiations next week.  They will have access to the texts and will participate in all TPP activities between now and the next round in December. Canada and Mexico will likely have bilateral meetings with the U.S. and others to "get up to speed" on specific issues.  USTR received numerous comments in response to its Federal Register notice requesting comments on the countries' entrance into the negotiations.
Leading up to the September negotiating round in Leesburg, USTR staff had embarked on a series of bilateral meetings, including side meetings at the ASEAN and APEC conferences.  Additionally, trade ministers met at the APEC meeting and released an official statement on the negotiations.
Weisel said that progress was made in many areas, as described in the USTR press release.  However,  the IPR chapter is one area where there is still a lot of work to do. She said that overall negotiations are on track, and that it is normal at this stage for negotiations to be down to the more difficult issues. Most of the IPR negotiations in Leesburg dealt with trademarks, GIs, and the general provisions.  The negotiators touched on limitations and exceptions, but did not delve deeply into the discussion.  The same issues are likely to be on the table in the December round.  It is not likely that USTR will table any new text on patents.  (Patents and data exclusivity are under discussion, and there will be further outreach o civil society on this before any new text is tabled.)
The next TPP negotiating round will be held December 3-12 in Auckland, New Zealand.  Before then, USTR expects numerous bilateral meetings.  (One of the civil society attendees noted that this morning the New Zealand government announced that December 7 is the day for stakeholder presentations.)
After the December round, there will likely be an intercessional on regulatory coherence and development  in Mexico. The exact date and location is yet to be determined.