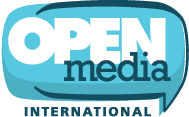 [Open Media press release, Link, (CC-BY-NC-SA)]  Citizens from across the globe want balanced copyright rules that are shaped democratically, respect creators, and prioritize free expression. That's the message of Our Digital Future: A Crowdsourced Agenda for Free Expression, a new report launched today by community-based OpenMedia. The overall consultation process took place over 2 years engaging 300,000 people from Australia to Vietnam.
The report is being launched just days before a crucial round of Trans-Pacific Partnership (TPP) talks take place in Australia. The findings come as a significant blow to Big Media lobbyists, who have been using the secretive TPP talks to ram through extreme proposals that would censor the Internet and criminalize many everyday online activities. The report finds that over 72% of respondents want copyright rules to be created through "a participatory multi-stakeholder process" in contrast to closed-door TPP meetings from which citizens are completely excluded.
"It's clear from this extensive study that Internet users overwhelmingly want balanced copyright rules that respect creators while safeguarding free expression online," said OpenMedia Community Engagement Specialist Reilly Yeo. "Now that the citizen-driven alternative exists, TPP negotiators won't be able to credibly claim that their extreme Internet censorship plan reflects the wishes of anybody but big media conglomerates."
Ms. Yeo continued: "The bigger picture here is that for decades heavy-handed bureaucracies have crafted the rules that affect all of us – the TPP is the latest, most extreme iteration of this type of closed-door, exclusive law-making. But old-fashioned, undemocratic processes like this have quite simply lost their legitimacy, now that we can use the power of the Internet to shape rules that work for Internet users and creators all around the world instead of merely for large conglomerates. The Internet gives all of us the ability to work toward a new, more participatory democracy and it's heartening to see tens of thousands of people from every corner of the globe taking this opportunity to have their say."
Award-winning author and open Internet advocate Cory Doctorow said: "As a member of the entertainment industry, I welcome the idea that my industry has regulations that govern my relationships with my publishers, with booksellers, with film studios, and so on. But it would be crazy to ask my *readers* to understand and abide by those technical rules. If you need to understand the law to read a book, the law is broken. Reforming copyright to ensure that it continues to be confined to the industrial realm is not a radical project; it's just common sense."
The report is part of a wave of new initiatives that leverage the power of the Internet to crowdsource new ideas, with other examples including a Spanish political party crowdsourcing votes on transparency legislation, and Tunisian activists crowdsourcing a new constitution. Key recommendations made by participants in the Our Digital Future process are:
Recommendation 1: Respect Creators. 67% of respondents in our crowdsourcing process wanted to see at least three-quarters of revenue from the sale of creative works to go directly to artists and creators. They also desire new ways for creators to share their work, flexible exemptions, and copyright rules that encourage a rich public domain.
Recommendation 2: Prioritize Free Expression. Nearly three-quarters of respondents selected "Prioritize Free Expression" as their first priority for developing more balanced copyright. Respondents proposed a four-pronged agenda, including: preventing censorship; protecting fair use and fair dealing, promoting access and affordability, and creating clear rules to govern the sharing of knowledge and culture online.
Recommendation 3: Embrace Democratic Process. Over 72 percent of respondents want rules created through "a participatory multi-stakeholder process…that includes Internet users, creators, and copyright law experts". Respondents decried closed-door processes like the TPP, strongly preferring participatory, democratic, and transparent forums to shape rules that affect all of us.
Citizens are invited to read and endorse the findings of this report at https://OpenMedia.org/DigitalFuture
About OpenMedia
OpenMedia is an award-winning community-based organization that safeguards the possibilities of the open Internet. We work toward informed and participatory digital policy by engaging hundreds of thousands of people in protecting our online rights.
Through campaigns such as StopTheMeter.ca and StopSpying.ca, OpenMedia has engaged over half-a-million citizens, and has influenced public policy and federal law.
About the Trans-Pacific Partnership Agreement:
The TPP is one of the most far-reaching international free trade agreements in history. We know from leaked TPP draft texts that participating nations would be bound to much stricter and more extreme copyright laws than now exist under current national laws. These new rules would criminalize much online activity, invade citizens' privacy, and significantly impact our ability to share and collaborate online.
Negotiators from 12 of the TPP negotiating nations—Australia, Brunei, Canada, Chile, Japan, Peru, Malaysia, Mexico, New Zealand, Singapore, Vietnam, and the United States— are meeting in Asia this week to discuss these changes without input from the public, creators, or most businesses. The negotiating documents are classified—unless you are one of just 600 industry lobbyists permitted to participate.
U.S. negotiators are pushing hard to force smaller nations into accepting a censored Internet. However, reports have indicated that the intellectual property provisions have been quite a "challenging" issue for those behind the agreement.
Hundreds of thousands of people have supported campaigns organized by OpenMedia to speak out about Internet censorship and the secrecy surrounding the TPP.