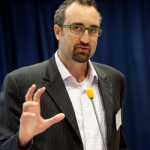 Reports from the WTO Public Forum held last week highlights a notable shift in the World Trade Organization toward an E-Commerce Agenda. The issue appears likely to be addressed substantively in the 2017 Ministerial Conference. Through then, the organization is likely to be increasingly discussing the form and objectives of a possible negotiation on the topic.
The WTO has had an explicit E-Commerce agenda since 1998. But the issue is receiving substantially increased attention in the WTO now.
Many participants in the Public Forum noted that this was the first time when so many presentations and panels – 23 sessions in all – were devoted to a single topic. Some compared the sense of momentum to other moments in the institution's history when change appeared to be afoot.
The E-Commerce issue presents some interesting possibilities of breaking the log jam on norm setting at the WTO if it is contained in a single issue agreement. It appears to many to be an issue that breaks divides between traditional north/south interests – of interest to large internet platforms and exporters and small and medium enterprises alike. It also could be fashioned into a set of norms that potentially could be embraced by industry and consumer groups – each of which have interests in harmonizing some elements of the agenda, such as net neutrality and ISP liability rules. And finally, it offers the chance to address concerns about US disengagement from the institution, which has been critical of late of WTO dispute settlement and norm setting.
The issues likely to be discussed in an E-Commerce chapter are coming into focus. WTO member "non-papers" were circulated on the issue in July 2016. Diplo Foundation's review of the submissions of the EU, the United States, and Brazil finds an overlapping consensus for discussing seven main issues. To those one can add others that were discussed in the Forum or included in regional FTA discussions, to include:
Network neutrality (EU, Brazil)
Data localization barriers (US, EU)
Source code protection (EU, US)
Technology transfer (Brazil, US)
Technical standards (US, EU)
Privacy protection (EU, Brazil)
Free flow of data (EU, Brazil, US)
Encryption (US)
Internet service liability safeguards (US TPP, TISA?)
TRANSPARENCY, INCLUSION AND PUBLIC TRUST
Many at the forum highlighted the opportunity for the WTO to bolster public trust in trade negotiations through increased inclusion, transparency and public engagement.
At the opening of this year's Forum, Cecilia Malmstrom, European Trade Commissioner, sounded that theme, calling for "a new kind of trade policy" that addresses "how to make sure that people who do not trust policymakers feel included or informed." She called for "transparent negotiations in free trade agreements, and for all stakeholders to be included in trade negotiations." [IP Watch, Link]
REFERENCES
https://www.eff.org/deeplinks/2016/09/world-trade-organization-sets-its-eyes-internet
https://www.eff.org/deeplinks/2016/09/fair-processes-better-outcomes
https://www.wto.org/english/news_e/news16_e/ecom_28sep16_e.htm
http://www.politico.com/tipsheets/morning-trade/2016/09/wto-forum-winds-down-with-e-commerce-in-spotlight-216586
http://www.diplomacy.edu/blog/e-commerce-wto-next-arena-internet-policy-discussions
http://www.diplomacy.edu/blog/rise-e-commerce-initiatives-expanding-access-taxation
http://www.diplomacy.edu/blog/e-commerce-europe-consultations-court-rulings-and-other-updates-september
http://digitalwatch.giplatform.org/sessions/connecting-world-through-digital-trade
http://digitalwatch.giplatform.org/sessions/updating-multilateral-rulebook-foster-development-digital-trade-and-beyond
http://digitalwatch.giplatform.org/sessions/new-landscape-inclusion-digital-trade
http://digitalwatch.giplatform.org/sessions/unlocking-inclusive-trade-smes-through-cross-border-e-commerce
http://digitalwatch.giplatform.org/sessions/boundaries-and-best-practices-inclusive-digital-trade
http://digitalwatch.giplatform.org/sessions/inclusive-power-digital-trade-why-combatting-digital-protectionism-crucial-wto%E2%80%99s-mission
http://digitalwatch.giplatform.org/sessions/digital-trade-development-governance-issues-and-enabling-environment
http://digitalwatch.giplatform.org/sessions/digital-trade-digital-economy
http://digitalwatch.giplatform.org/sites/default/files/WTO%20Public%20Forum%202016%20-%20GIP%20Final%20Report.pdf
http://www.ip-watch.org/2016/09/27/wto-public-forum-opens-against-gloomy-global-trade-perspectives/
http://www.ip-watch.org/2016/09/29/signs-of-changing-trends-in-ftas-ip-chapters-speakers-say-at-wto/
See also: