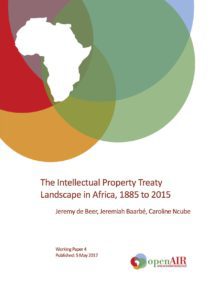 Jeremy de Beer, Jeremiah Baarbé, Caroline Ncube
Open AIR Working Paper #4; LINK
Innovation policy is important for economic growth and human development.[1] Countries across Africa are, therefore, developing policy to encourage innovation.[2] Measures that address intellectual property (IP) in a locally relevant way are integral to the broader innovation landscape.
IP policy is complex and controversial because it seeks to balance protection of, and access to, knowledge. Policy that leads to either an absence or overabundance of proprietary IP rights may discourage innovation.[3] Domestic policymakers may look to research showing that strict IP protection economically advantages developed countries while disadvantaging developing countries.[4] Similarly, they may be presented with research supporting a contrary view.[5] Evidence-based IP policy-making is, therefore, not always easy.[6]
The international dimensions of IP are as complex, or more complex, than the domestic aspects. Because IP protects valuable intangibles, these resources move easily across borders. To address that issue, international treaties set out minimum standards for IP protections. There is tension, however, between harmonization (in the belief that it promotes predictability and, thus, foreign direct investment and international trade) versus flexibility (to eliminate trade barriers, and to ensure local governments are able to develop policies that respond to local needs).
National governments on the continent of Africa are increasingly constrained by international IP law when locally tailoring approaches to knowledge governance. It is also important to note that there have been significant continental and regional developments in Africa with regard to IP norm-setting.[7] The confluence of IP policy with trade policy has added another layer of complexity to a wide array of international negotiations.[8] We are beginning to see empirical evidence of the impact of "IP socialization", which explains why ostensibly context-inappropriate IP norms are adopted so frequently in developing countries.[9] Research is also emerging that suggests appropriate strategic directions for African policymakers pursuing deeper continent-wide economic integration.[10] The ability to implement that advice depends, however, partly on the constraints of the entire scheme of global governance of IP matters.
This paper maps the 130-year history of the global international IP treaty landscape governing the protection of, and access to, knowledge in Africa. Our approach looks to the past and present in order to build a rich context for policymakers looking to the future. This approach offers a preliminary overview of the opportunities for IP policy innovation in each country, and the continent as a whole.
We begin by describing our novel data collection and visualization method, used to help understand the history and extent to which African countries are bound to the global IP regime. Our analysis corresponds to four distinct periods in treaty-making history. Beginning with 1885 to 1935, we describe how IP treaties were instruments of colonialist policy. Up to 1965, we observe how treaties were maintained in a neo-colonial response to independence. The period up to 1995 was characterized by attempts to limit the influence of African countries on global IP policy. Finally, we examine the "African rising" phenomena from 1996 to 2015 in the context of a new focus on innovation policy.
---
FOOTNOTES
1 Mammo Muchie, "Towards a Unified Theory of Pan-African Innovation Systems and Integrated Development", Olugbenga Adesida, Geci Karuri-Sebina & Joao Resende-Santos, eds, Innovation Africa: Emerging Hubs of Excellence (Bingley, UK: Emerald Group Publishing, 2016) at 26.
2 Olugbenga Adesida, Geci Karuri-Sebina and Joao Resende-Santos, eds, Innovation Africa: Emerging Hubs of Excellence (Bingley, UK: Emerald Group Publishing, 2016).
3 Michael A Heller & Rebecca S Eisenberg, "Can Patents Deter Innovation? The Anticommons in Biomedical Research" (1998) 280:5364 Science 698, online: <http://science.sciencemag.org/content/280/5364/698.full>; Lawrence Lessig, Free Culture: How Big Media Uses Technology and the Law to Lock Down Culture and Control Creativity (New York: Penguin Press, 2004) online: <http://www.free-culture.cc/freeculture.pdf>.
4 See for example Clemente Forero-Pineda, "The Impact of Stronger Intellectual Property Rights on Science and Technology in Developing Countries" (2006) 35 Research Policy 808; Patricia Higino Schneider, "International Trade, Economic Growth and Intellectual Property Rights: A Panel Data Study of Developed and Developing Countries" (2005) 78 J Development Economics 529.
5 See for example James Thuo Gathii, "Strength in Intellectual Property Protection and Foreign Direct Investment Flows in Least Developed Countries" (2015) Loyola University Chicago School of Law Research Paper No. 2015-011 online: <https://ssrn.com/abstract=2611369>.
6 See Jeremy de Beer, "Evidence-based Intellectual Property Policymaking: A Review of Methods and Conclusions" (2016) 19:5-6 Journal of World Intellectual Property 150.
7 Caroline B Ncube, Intellectual Property Policy, Law and Administration in Africa: Exploring Continental and Sub-regional Co-operation (London, UK: Routledge 2016).
8 Jeremy de Beer, "Applying Best Practice Principles to International Intellectual Property Lawmaking" (2013) 44:8 IIC – International Review of Intellectual Property and Competition Law 884.
9 Jean-Frederic Morin, Kevin Daley, and E Richard Gold, "Having Faith in IP: Empirical Evidence of IP Conversions" (2011) 3:1 The WIPO Journal 93.
10 Caroline B Ncube et al, "Assessing Regional Integration in Africa VIII: Background Paper on Intellectual Property Rights and Innovation" Open AIR Working Paper 5 (5 May 2017).