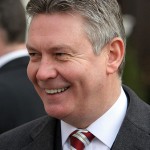 On January 26, the European Union signed the Anticounterfeiting Trade Agreement, prompting protests both online and in the streets, as well as the resignation of the EU Special Rapporteur for ACTA, Kader Arif.
On January 30, EC Commissioner for Trade Karl De Gucht wrote members of the European Parliament's Committee on International Trade, asking them to disregard  public opposition to the deal – especially comparisons to the Stop Online Piracy Act in the U.S. – and sending two attachments to refute opposition arguments ("10 Myths About ACTA" and "ACTA Arguments").
The full letter is available here.
An excerpt follows:
In the last few days, some parts of civil society have intensified their campaign against this agreement. As we have seen before, and despite the European Commission's efforts to provide all the relevant facts, the action they take is based on misinformation, or possibly even worse, on willful misinterpretation of the content of the agreement. This is all the more striking given the fact that ACTA does not change existing EU rules in this area.
In particular, comparisons are being made with draft legislation that was recently discussed, then withdrawn in the US Congress, and which differs very significantly from ACTA both in substance and the actual measures proposed…
…Presently, ACTA opponents are trying to press Members of the Parliament to take a position now against it before your Committee and the Parliament has had a  chance to debate it and take a considered view of its merits.  This is not the time to jump precipitously to a conclusion simply on the basis on the number of emails received or in response to organized attacks to websites, such as your own, notwithstanding the amount of media attention such action attracts.