[Isaac Rutenburg, Afro-IP, Link (CC_BY)] T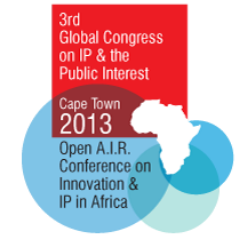 oday is Day 3 of the Global Congress and OpenAIR conference in Cape Town, SA. It also marks the shift of focus from OpenAIR to the Global Congress per se.
The day began with, among other things, a summary of activist activities in Canada against oppressive copyright legislation. It seems that Canadians are relatively [at least relative to Kenyans, grumbles this Leo] easy to mobilize on this topic. When the Canadian government began discussing DMCA-type legislation, 30,000(!) physical letters [who writes physical letters these days?] flooded the government from citizens concerned about the way that the proposed legislation would restrict freedom in copyrighted works.
Prof. Ben Sihanya, a copyright expert at the University of Nairobi, pointed out that there is a ceasefire between the pro-copyright camp and the no-copyright camp, and the ceasefire is brought about by the Creative Commons. He stated that we should seriously explore the Creative Commons option to opening information within the context of a protection regime.  This position is very consistent with Tobias Schonwetter (Director of the IP Unit at Cape Town University), who opened the Global Congress by urging attendees to look for common ground between pro- and anti-protectionism. Continue reading »