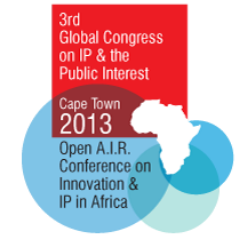 To date, 200 people from around the world have signed the Third Global Congress Global Congress Declaration on Fundamental Public Interest Principles for International Intellectual Property Negotiations.
The Declaration, drafted at the recent Global Congress in Cape Town, South Africa, calls for "a positive agenda in international intellectual property law making" which would include a more open negotiating process, respect for stakeholders' social and economic welfare, and preserve states' freedoms to protect access to knowledge goods.  The full declaration and the initial signatures are below.
The document will remain open for institutional and individual signatures through the holidays. To sign, please fill out this very short form. The final version will be formally released next month. 
Global Congress Declaration on Fundamental Public Interest Principles for International Intellectual Property Negotiations
Adopted at the Third Global Congress on Intellectual Property and the Public Interest
University of Cape Town
Cape Town, South Africa
December 13, 2013
Taking into consideration:
The principles for promoting a positive agenda for intellectual property law and policy enunciated in the Washington Declaration on Intellectual Property and the Public Interest.

The Max Planck Principles for Intellectual Property Provisions in Bilateral and Regional Agreements.

The means for promoting the protection and growth of the public domain presented in the Public Domain Manifesto and the Europeana Public Domain Charter.

The state of research showing that all countries, and particularly developing countries, need meaningful flexibility in their intellectual property regimes.

The increasing and unprecedented trend toward the inclusion of IP provisions in trade and other agreements that, unlike traditional multilateral intellectual property instruments, are negotiated under highly secretive processes.

The basic tenet that law-making in democratic societies — including in the international realm — should occur only through procedures that are public, inclusive, transparent and accountable so that law can best reflect the values and the consent of the governed.

The contemporary reality of rapid technological, social, economic, and cultural change.

The leaked drafts of the Trans-Pacific Partnership (TPP) Agreement's chapter on intellectual property rights.
We, the undersigned scholars, researchers, and policy advocates, endorse the following statement drafted and adopted at the Third Global Congress on Intellectual Property and the Public Interest, Cape Town, South Africa, December 13, 2013:
We call on countries negotiating the TPP, and those of other current and future agreements, to promote a positive agenda in international intellectual property law making, including to:
facilitate ongoing release of proposed legal provisions for public comment and maximize the ability of all interested persons and organizations to observe and participate in negotiation processes;
ensure that intellectual property rights are established and implemented in a manner that promotes social and economic welfare; respects the rights of students, teachers, doctors, patients, consumers, artists, and other members of the broader community; and facilitates the development of the public domain for the full enjoyment of all human rights;

fully incorporate and respect the provisions of all multilateral intellectual property instruments that provide flexibility to countries to tailor the scope and duration of intellectual property rights, define limitations and exceptions to rights, and that recognize the necessity of regulation to serve human values;

preserve the flexibility of sovereign States to modify and adjust the provisions of their intellectual property laws in response to new circumstances and technological, social, economic, and cultural change, in particular by

protecting the flexibility of States to define exceptions to anti-circumvention liability and the processes by which they are formulated, and

avoiding the imposition of a one-size-fits-all system of Internet Service Provider liability and related exceptions;

fully support each State's right to protect public health and promote access to medicines, including by permitting all countries to fully avail themselves of all TRIPS Agreement provisions which provide flexibility to define the scope of and limitations to intellectual property and data protections;

defend the freedom of countries to choose to implement international or regional exhaustion of intellectual property rights to facilitate parallel importation;

ensure that intellectual property enforcement measures are reasonable and proportional to the infringement they target, including by avoiding "deterrent level" civil damages and inappropriate expansion of criminal and secondary liability;

ensure that countries retain the rights to make independent decisions about the prioritization of law enforcement resources to promote public interests;

enable States to prohibit internet service providers from monitoring or controlling the communications of their users based on the content of these communications;

avoid the creation of new dispute resolution fora parallel to, and that may conflict with, the multilateral system;

ensure that intellectual property agreements are consistent with international law, including international human rights law and the Convention on Biological Diversity;
We conclude that any international instruments that do not meet these basic principles are not in the public interest and should be rejected.
We record our serious concerns about the closed and secretive processes being used for current international negotiations while acknowledging the efforts of some countries to promote positive proposals within them.
Signed:
Sunil Abraham
The Centre for Internet and Society
ADIGUN ADETOLA
FAKOM NIGERIA LIMITED
Prudence Adler
Association of Research Libraries
Riyadh Al-Balushi
Ministry of Legal Affairs of the Sultanate of Oman
Pamela Andanda
University of the Witwatersrand
Pablo Francisco Gomez
Arrieta    RedPaTo2
Katy Athersuch
MSF Access Campaign, Geneva
Renata Avila
IP & Human Rights Lawyer, Guatemala
Renata Avila Pinto
Creative Commons Guatemala
Brook Baker
Northeastern U. School of Law
David Justin Bakibinga
Makerere University
Thiru Balasubramaniam
KEI
Wilbert    Bannenberg
SARPAM/HERA
swaraj Barooah
SpicyIP
Ben Bartlett
PlanHealth
Fran Baum
Southgate Institute for Health, Society & Equity, Flinders University
Markus Beckedahl
netzpolitik.org
Wondwossen Belete
Society for Technology Studies / Open A.I.R.
John Bergmayer
Public Knowledge
Zecharias Berhe Fassil
TAC
Kajal Bhardwaj
Independent Lawyer
Alexandre Boivin
Enrico Bonadio
City University London
Carolina Botero
Fundación Karisma
Ellen Broad
International Federation of Library Associations & Institutions
Dorothy Broom
Australian National University
Beatriz Busaniche
FVL / FLACSO
Brandon Butler
American University Washington College of Law
Michael Carrier
Rutgers Law School
Michael Carroll
American University Washington College of Law
Cathy Casserly
Creative Commons
Alberto Cerda
University of Chile Law School
catherine Chamberlain
Monash University
Nehaa Chaudhari
The Centre for Internet and Society
Helen Chuma-Okoro
Nigerian Institute of Advanced Legal Studies / Open A.I.R.
Jason Cross
Duke University
Teshager Dagne
TRU Faculty of Law / Open A.I.R.
Carolyn Dalton
Policy Australia Pty Ltd
Angela Daly
Swinburne Institute for Social Research/European University Institute
Fernanda de Souza
UAEM
Abdullah Denovan
JOTHI
Estelle Derclaye
University of Nottingham
Joelle Dountio Ofimboudem
University of Pretoria
Patrick Durisch    Berne
Declaration
Nagham el Houssamy
Access to Knowledge for Development, AUC / Open A.I.R.
Richard Elliott
Canadian HIV/AIDS Legal Network
Ezieddin Elmahjub
Queensland University of Technology
Hala Essalmawi
Bibliotheca Alexandrina
Thomas Faunce
Australian National University
Saoirse FitzPatrick
Student Stop AIDS Campaign
Matthew Flynn
Georgia Southern University
Sean Flynn
American University
Pedro Augusto Francisco
Center for Technology and Society – FGV
Michael Geist
University of Ottawa
Bill Genat
Victoria University
Rebecca Giblin
Monash University/Aust Digital Alliance
Douglas Gichuki
CIPIT centre for IP and IT Law / Open A.I.R.
Deborah Gleeson
La Trobe University
Volker Grassmuck
Centre for Digital Cultures, Leuphana University Lueneburg
Cable Green
Creative Commons
Andres Guadamuz
University of Sussex
Lucie Guibault
University of Amsterdam
Monica Guise Rosina
FGV Law School in São Paulo – Direito GV
Luisa Fernanda Guzmán Mejía
Fundación Karisma
Blayne Haggart
Brock University
Elbialy Hatab
Egyptian Environmental Affairs Agency
Patricia Hepworth
Australian Digital Alliance
Julia Hill
MSF Access Campaign
Cynthia Ho
Loyola University of Chicago School of Law
Germán Holguín
Misión Salud Veeduría Ciudadana
Monica Horten
London School of Economics and Political Science
Yuan Qiong Hu
SOAS, China A2M Research Group
P. Bernt Hugenholtz
Institute for Information Law (IViR), University of Amsterdam
Susan Isiko-Strba
University of Minnesota
Andres Izquierdo
Labcom – Instituto Pensar, Universidad Javeriana, Colombia
Peter Jaszi
Washington College of Law
Jorge Jimenez Barillas
CC Guatemala, CongresoTransparente.org
Erik Josefsson
Greens/EFA Group
Francis Kaswahili Kaguna
East african Creative Rights company
Koichi  Kameda
UAEM Brazil / UERJ
Emmanuel Kamonyo
OSIEA
Melba Katindi Katsivo
KELIN
Matthew Kavanagh
niv. of Pennsylvania & Health GAP
Dick Kawooya
University of South Carolina
Paul Faustin Kihwelo
CC Tanzania
Burcu Kilic
Public Citizen
Thomas King
University of Cape Town
Michael Knapek
Gaelle Krikorian
IRIS, Paris
Primah Kwagala
Center for Health, Human Rights & Development (CEHURD)
Mary LaFrance
William S. Boyd School of Law, University of Nevada, Las Vegas
David Legge
La Trobe University, Melbourne
Kalyton Lucas Alves Lemes
UAEM
David Levine
Elon University School of Law
Joel Lexchin
York University
Ramon Lobato
Swinburne University of Technology
Hans Lofgren
Deakin University
Peter Lor
University of Pretoria
James Love
KEI
Edward Low
Positive Malaysian Treatment Access & Advocacy Group (MTAAG+)
Jeremy Malcolm
Consumers International
Anthony Mao Fu Jen
Catholic University
Antonio Martínez
ARTICLE 19 Mexico and Central America
Peter Maybarduk
Public Citizen
Diarmaid McDonald
STOPAIDS UK
Bernard Meijfroidt
IOPS
Hiram Meléndez-Juarbe
University of Puerto Rico Law School
Diane Mercier
Diane Mercier, Ph.D.
Ikechi Mgbeoji
York University
Gabriel Michael
The George Washington University
John Mitchell
Interaction Law
Pedro Mizukami
CTS/FGV
Brendan Molloy
Pirate Party Australia
Oreetseng Moncho
UCT
Miguel Morachimo
Hiperderecho
Cailin     Morrison
School of Law, University of Wolverhampton
Mammo Muchie
Twsane University of Technology
NEWTON MUDZINGWA
THE AIDS SERVICES INSTITUTE
Heesob Nam
IPLeft
Ira Nathenson
St. Thomas University School of Law
Caroline B Ncube
University of Cape Town / Open A.I.R.
William New
Intellectual Property Watch
Adriana Nilsson
Copenhagen Business School
Byoungil Oh
Korean Progressive Network Jinbonet
Paul Ogendi Omondi
AIDS Law Project
Troels Eske Ortvad
Soohyun    Pae
Creative Commons
Michael Palmedo
PIJIP, American University
Pedro Paranaguá
FGV School of Law
Jane Park
Creative Commons
Pieter-Jan Pauwels
OKFN Belgium
Sara Helena Pereira e Silva
UAEM
Diane Peters
Creative Commons
Fabricio Polido
Federal University of Minas Gerais – UFMG
Rufus Pollock
Open Knowledge Foundation
Pranesh    Prakash
Centre for Internet and Society
Srividhya Ragavan
University of Oklahoma College of Law
Reshma Ramachandran
American Medical Student Association
Lisa Ramsey
University of San Diego School of Law
Jhessica Reia
CTS-FGV
Andrea Carolina    Reyes Rojas
Alianza LAC – Global por el Acceso a Medicamentos
Graham Reynolds
Faculty of Law, University of British Columbia
Dr Sean Rintel
Electronic Frontiers Australia
Allan Rocha De Souza
UFRJ
Carolina Rosini
Joan Rovira
University of Barcelona
Umunyana Rugege
SECTION 27
Claudio Ruiz
ONG Derechos Digitales
Britta Rutert
Free University of Berlin/ Natural Justice
Lotti Rutter
Treatment Action Campaign
Pilar Saenz
Fundacion Karisma
Peter Sainsbury
Pamela Samuelson
Berkeley Law School
Leon Sanchez Ambia
UNAM Law School
Rosalie Schultz
Leonie Segal
University of South Australia
Susan Sell
Professor of Political Science and Inter-national Affairs, The George Washington University
Martin Senftleben
VU University Amsterdam
Adigun Sheriff
Sherrad Global Investment Ltd.
Jessica Silbey
Suffolk University Law School
Peter Suber
Harvard University
Maira Sutton
EFF
Nicolas Suzor
Queensland University of Technology
Ann Taket
Deakin University
Alek Tarkowski
Centrum Cyfrowe Projekt: Polska
Carole Theuri
University of Stellenbosch
Aminou TITA
ISOC
Amalia Toledo Hernández
Fundación Karisma
Samuel Trosow
University of Western Ontario
Natasha Tusikov
Australian National University
Dr. Hafiz Aziz ur Rehman
IIUI, Islamabad, Pakistan
Jennifer Urban
University of California – Berkeley School of Law
Mariana Valente
CTS/FGV
Stef van Gompel
Institute for Information Law, University of Amsterdam
Wim Vandevelde
TB CAB
Yousuf     Vawda
University of KwaZulu-Natal, South Africa
Timothy Vollmer
Creative Commons
Kat Walsh
Creative Commons
Ante Wessels
Foundation for a Free Information Infrastructure
Darius Whelan
University College Cork
Kelsey Wiens
University of Cape Town
Owain Williams
Aberystwyth University
Jane Winn
University of Washington School of Law
Hong Xue
Beijing Normal University Institute for Internet Policy & Law
Peter Yu
Drake University Law School
Zhenyan Zhu
Third World Network
Nicolo Zingales
Tilburg University Law School
La Quadrature du Net